At Bon Accord Homemakers we supply and install an extensive range of window awnings on the Central Coast, Lake Macquarie and Newcastle areas. Our clients include, homeowners, landlords, retail shops and other commercial enterprises.
Awnings installers, Central Coast, Lake Macquarie, Newcastle
External awnings are a great idea for a variety of very good reasons:
To provide shade from our harsh Australian sun and harmful UV rays
To provide protection from rain and storms
To provide additional privacy around your home
To provide barriers to hide garbage bins or sheds from view
To lift your property's curb appeal by adding colour and style to the exterior areas
To create additional outside spaces
We manufacture and install the following custom made window awnings for the Central Coast, Lake Macquarie and Newcastle: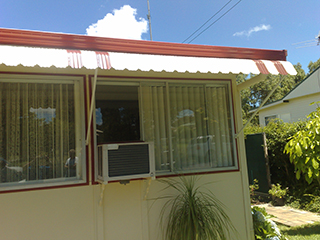 Aluminium awnings
We have an extensive range of traditional and contemporary styles, which can be customised to complement your property and your needs.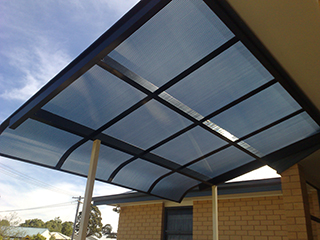 Carbolite awnings
Made from super tough polycarbonate, we can design your external, fixed awnings in a variety of styles, shapes and sizes. These are great for blocking out 100% of the sun's harmful UV rays.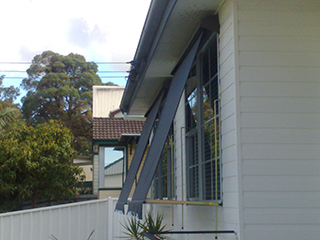 Automatic awnings
These are ideal to protect your home from the Australian sun and make it very easy to lower and raise your awnings, whatever the weather. They are particularly suitable for people with limited mobility and the elderly.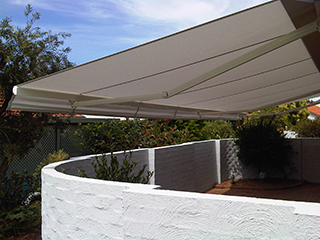 Folding arm awnings
These are great for large verandas on second or third stories or to cover large outdoor areas without the need for additional posts or beams. They can be motorised and can be easily opened or folded away as needed.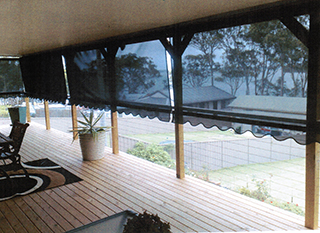 Pulldown awnings
These awnings are great for covered outdoor entertainment areas.
They protect you from the sun while you still enjoy your view outside.
They can become a wind barrier and are held down by an elastised band on both sides of the awning, meaning they are either up or down to suit your needs.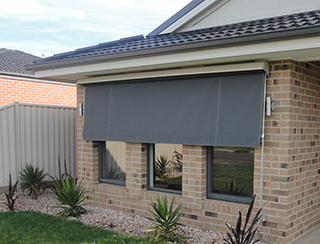 Motorised awnings
The convenience of having a motorised awning cannot be understated. In particular, opening and closing larger awnings turns a difficult and time consuming operation into a click of a button.
For more information on our fabulous selection of external awnings for windows in the Central Coast, Lake Macquarie and Newcastle areas,
please call us on 02 4970 5000 or email us on info@bonaccordblinds.com.au.